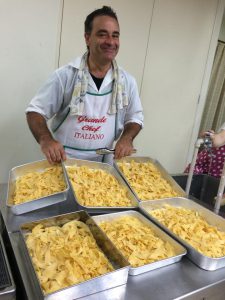 を通じて、ご予約いただけることになりました。
Pieto's page https://www.tadaku.com/menus/2791
Tadaku https://www.tadaku.com
CIAO! My name is Pietro, a 50 year old Italian from Bologna, living in Naha, Okinawa, since 2011, after the tsunami.
I'm a photo-journalist and that year I was traveling throughout Japan – my dream of a lifetime – to make a report about the country for an Italian travel magazine. When I was in Kyoto the tsunami came, so I changed my plans. A friend of mine suggested me to go to Okinawa, I had no idea at all about the place. Arrived in Naha, slowly slowly I fell in love with for this corner of the world. I've got married here and, after 25 years spent traveling, I decided to settle down.
I continue my photographer job, but here in Naha I started organizing Italian (and not only) food events where I teach the real dishes of my country's tradition. Got tired of fake 'Italian' food… I was influenced very much by my grandma, grandpa, mom and three aunts, all super-home-chefs from Bologna, by many considered Italy's food capital city. I love food and I love to see people enjoying it.
In Naha I also teach English to beginners, Italian and photography. I have a Japanese website where you can see most of my activities:   http://pietrotimes.com
About this menu
During my Italian cuisine classes I try to follow the footprints of my nonna (grandma) Giorgina, a real master of Bologna's dishes. In a cozy environment, a large kitchen in Italian-style, we'll make fresh, handmade pasta (tagliatelle, the 'queens' of Bologna), then cook them with ragu' (Bologna famous meat sauce), following the tradition of my hometown. As side dish the yummy friggione, an onions and tomatoes spread prepared the day before, following the ancient recipe.
An 'insalatona' (big salad) with balsamic vinegar will give a fresh balance to the meal. Everything will be accompanied by tasty bread fried in olive oil, sea salt from Sicily and rosemary or oregano or sage. At the end a tazzina (little cup) of coffee espresso, made in a 'moka' machine, as in every Italian house. BUON APPETITO!
Menu
– Handmade tagliatelle al ragu'
– Friggione
– Salad with balsamic vinegar
– Pane alle erbe
– Caffe' espresso
– Italian red or rose' wine
Menu details
Handmade tagliatelle al ragu': Maybe #1 pasta of Bologna (with lasagne and tortellini), handmade together before cooking. Simple and delicious, using eggs, flour (white one and semolina one) and… wrists!
Ragu': "Bologna meat sauce'" a very old recipe, using the delicious Okinawan Agu pork meat. Cooked slowly!
Friggione: An ancient recipe for a white onions spread (cut the day before and put to sleep with sugar and salt) and tomatoes. Simple and yummy.
Salad with balsamic vinegar: A big salad with lettuce, carrots, green peppers, tomatoes and a simple seasoning of balsamic vinegar from Modena, olive oil and salt.
Bread in olive oil: Bread in olive oil, Sicily salt and rosemary, sage or oregano. Supermarket bread brought back to life after a tour in a frying pan together with olive oil, Sicily's sea salt and herbs (oregano or rosemary or sage). Very simple, very good.
Caffe' espresso: Coffee made in an Italian `moka' machine, as in every Italian home
場所は、沖縄で活躍するイタリア家庭料理の教室の「Angiari アンジャーリー」こと、
赤木葉子さんの那覇・松尾のご自宅の料理教室なキッチン空間が会場となります。
とっても素敵なお家と、ピエトロのスペシャルなイタリア北部の家庭料理、
陽気なピエトロとゆったり空間をお楽しみください。
Angiari アンジャーリーの、イタリア家庭料理教室のご参加を気になっていた方にも、
このスペシャルな機会に、どうぞお越しください。
(ピエトロの日本語はカタコトレベルなので、基本は、とっても聞き取りやすい英語での開催となります。
英語とイタリア料理教室のコラボとなります)